Kanahei's Small animals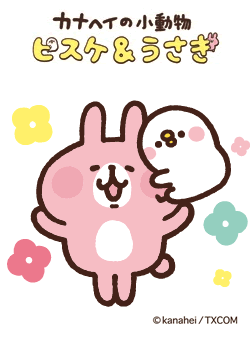 Profile
Kanahei's unique llustrations, anime and manga are very popular in Japan, Taiwan, Hong Kong, Thailand, and other Asian countries.
"Piske & Usagi" is her masterpiece.
Her website has been attracted a great number of people since 12 years ago. Lots of young illustrators have been inspired by "Kanahei GA (picture)".
In 2003, as a high school student, Kanahei made her professional debut in the famous magazine "SEVENTEEN".
She has expanded her illustration works to include wallpaper, 3DCG, and as well as Flash animations for PC and mobile phone.
LINE Stickers
Big hit ! "Kanahei's Small animals" LINE stickers series.
"Kanahei's Small animals" series won The Grand Prix 2016 and was the runner up in "LINE Creators Stamp AWARD 2015" for the second consecutive year.
Number of paid downloads was more than 6,100,000 DL.
Advertising
Kanahei produced a lot of advertising stickers collaborated with many big companies, for example, Softbank, LINE, Parco, amazon, MUFG, etc.
She has been highly valued by those clients.
MD
We had produced a lot of products of "Kanahei's Small animals" series started from the 2015 spring in Japan.  There are more than 650SKU.
"LoFt", the famous variety chain store, "KIDDYLAND", the toy chain store and "KINOKUNIYA-Shoten", the nationally known bookstore chain, have made lots of Kanahei's character stores.
Even in Taiwan and Hong Kong, "Kanahei's Small animals" campaigns were very popular in CVS and shopping malls.
Cafe
Collaborated with Parco, we opened "Kanahei's Yurrutto Cafe" in Tokyo from January to March in 2016.
It was so popular and many fans rushed to the cafe.  They had to wait for 6 hours in the weekend and for some hours even on weekdays to get a seat.
The cafe travels around Japan and next year it will deploy overseas.